1 basic game information
"Ultimate digital evolution" is a fantasy world as the background of the cartoon card game, exquisite cartoon character, cute baby will take you back to good quality, honesty, courage, friendship, hope and longing for childhood moved.
There are plenty of challenges in the game. Players can develop competitive sports and lively and interesting babies. You can form a match team, lead your carefully nurtured baby to challenge the evil forces, take part in adventure and save the world. You can evolve in battle, control the timing of every victory and the key to success.
Let's face the unknown tomorrow bravely and take risks, and find ourselves in the endless dream after crossing the cold and ruthless world.
As if the butterfly opened its wings and flew all the way through the breeze! Let us look forward to the "ultimate digital evolution"! "Ultimate digital evolution" will open the door to the gate of the miracle of childhood and fantasy for you!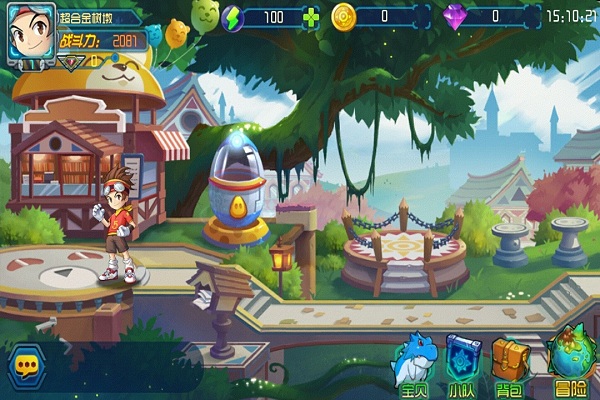 2 character image
2.1 important characters of the plot:
Brumaks
Ancient dinosaurs, with developed arms and huge tails, knocked everything down. Also has the intelligence, because the character is old and honest, is very easy to get up. Therefore, it is often regarded by the primary trainer as a treasure and is greatly cultivated. It can be said to be the most basic representative digital beast. The killing technique is to spit out the red fire "flame" like the color of the body.
Ultimate dragon beast
The metal giant dragon beast all year endured in the harsh environment, the whole body of mechanical transformation became red rust. The tactical war of annihilation was special, and a single shot was taken together with the enemy's stronghold. The ultimate dragon beast has the characteristics of hunting digital beasts, even hundreds of digital beasts can eat in a very short period of time. The technology of killing is to expand the front of the artillery on the back to launch the "frightened electromagnetic gun" of the large electromagnetic gun, and to vomit the deep red flame "red rust exhaled" which is the same color as the body.
Bakumon
Eats the nightmare of sacred, sacred ring it on the front foot is holy. Looks like a tapir.
3 Scene introduction
Main town